Le Museol Vegan Liquid with optimal energy, strength, focus and health
Regular price
$24.50 USD
Sale price
$9.90 USD
Unit price
per
Sale
Sold out
Take the worry out of your day with Le Museol Vegan Liquid!
Get a guilt-free energy, strength, focus and health boost to help you stay energized, focused, and stress-free.
With 0 grams of added sugar and vegan ingredients, it's the perfect way to stay on top of your game without compromising your wellbeing. Try it and feel the difference today!
Share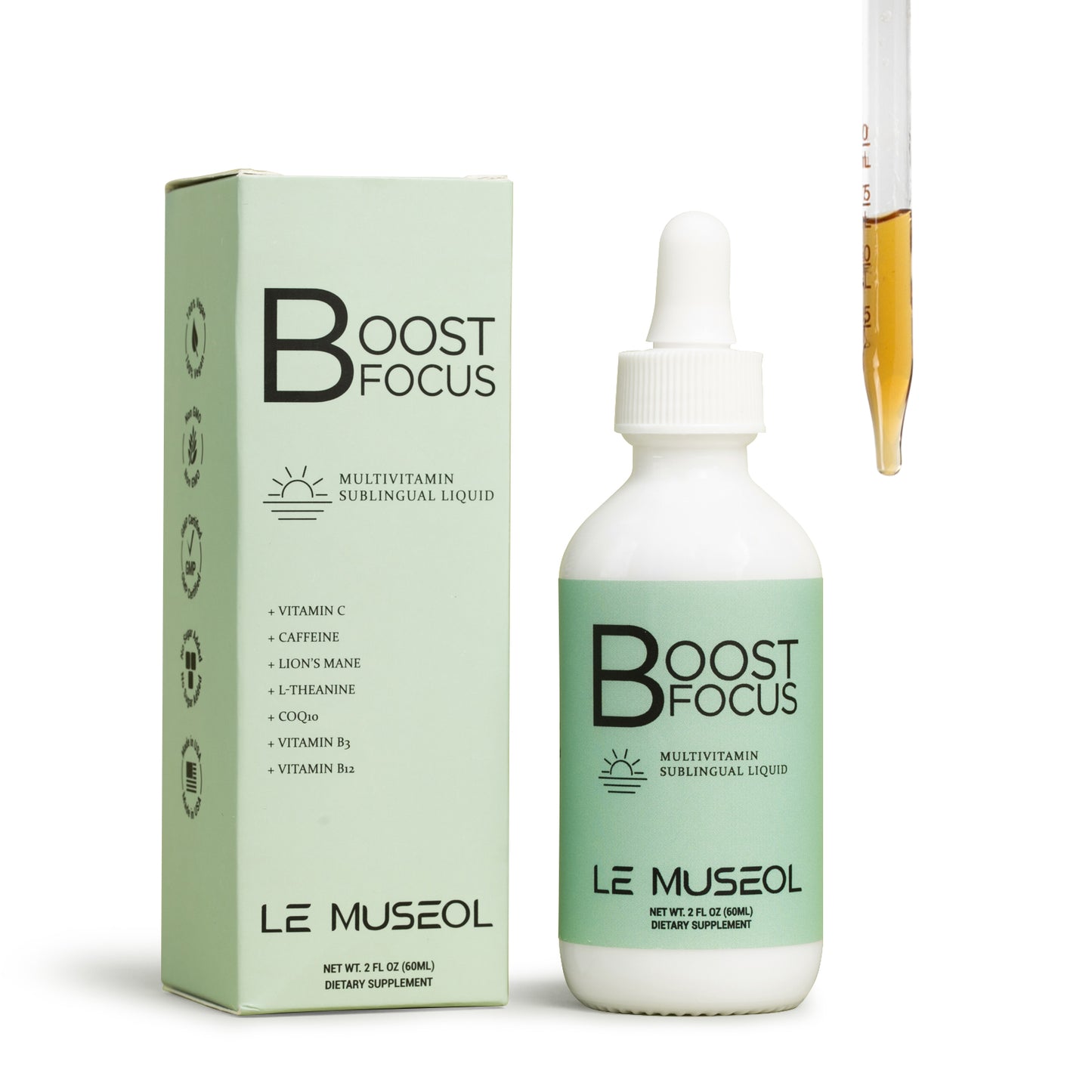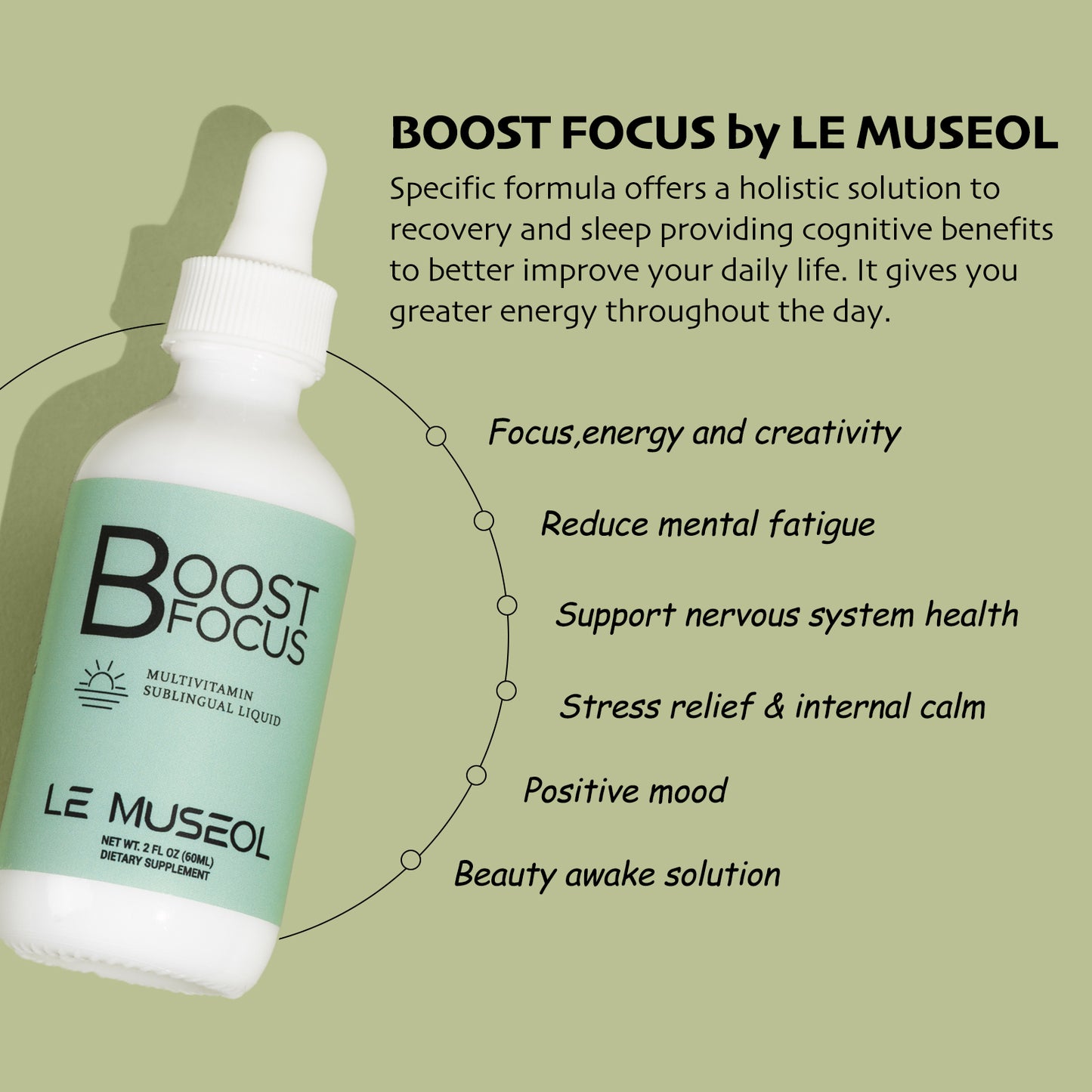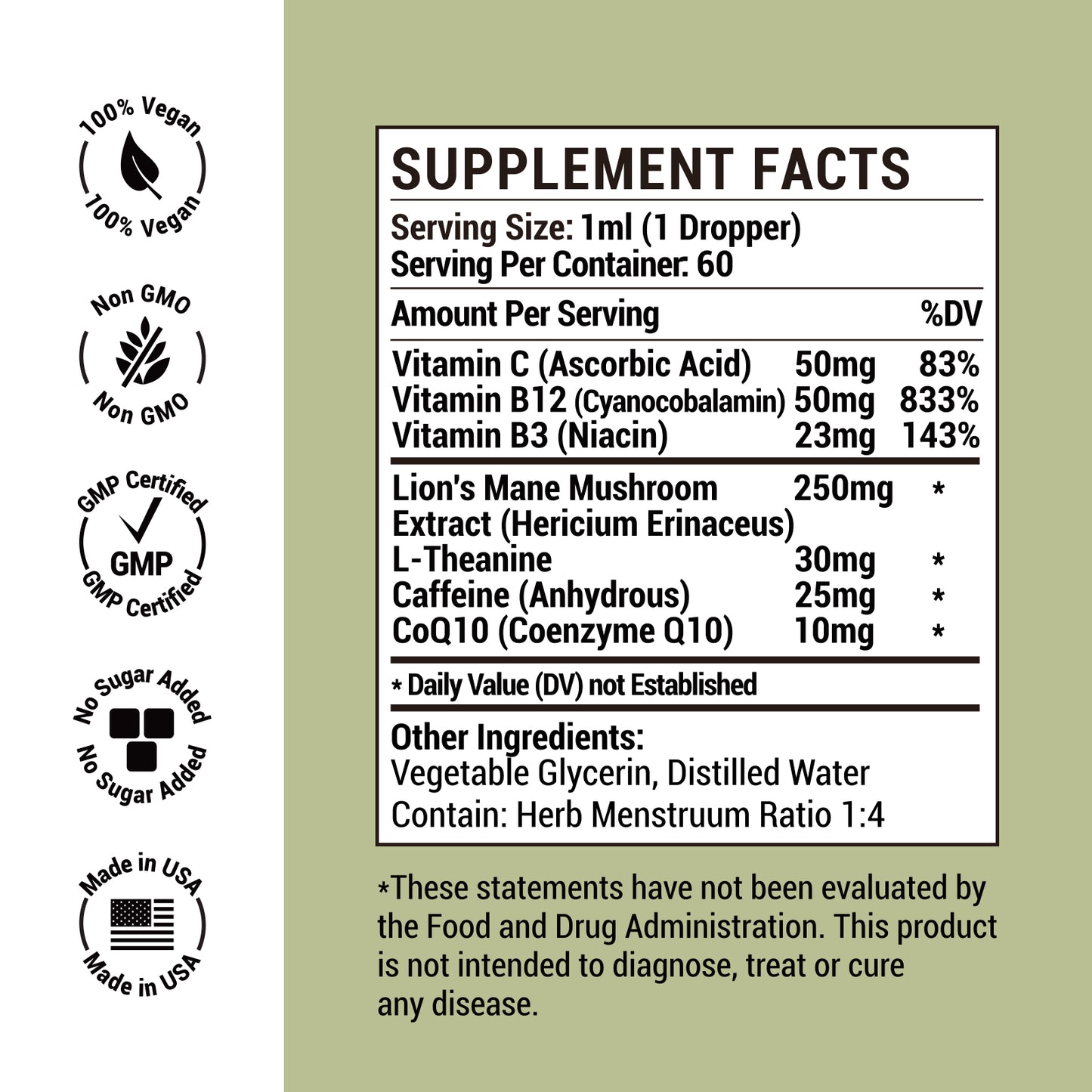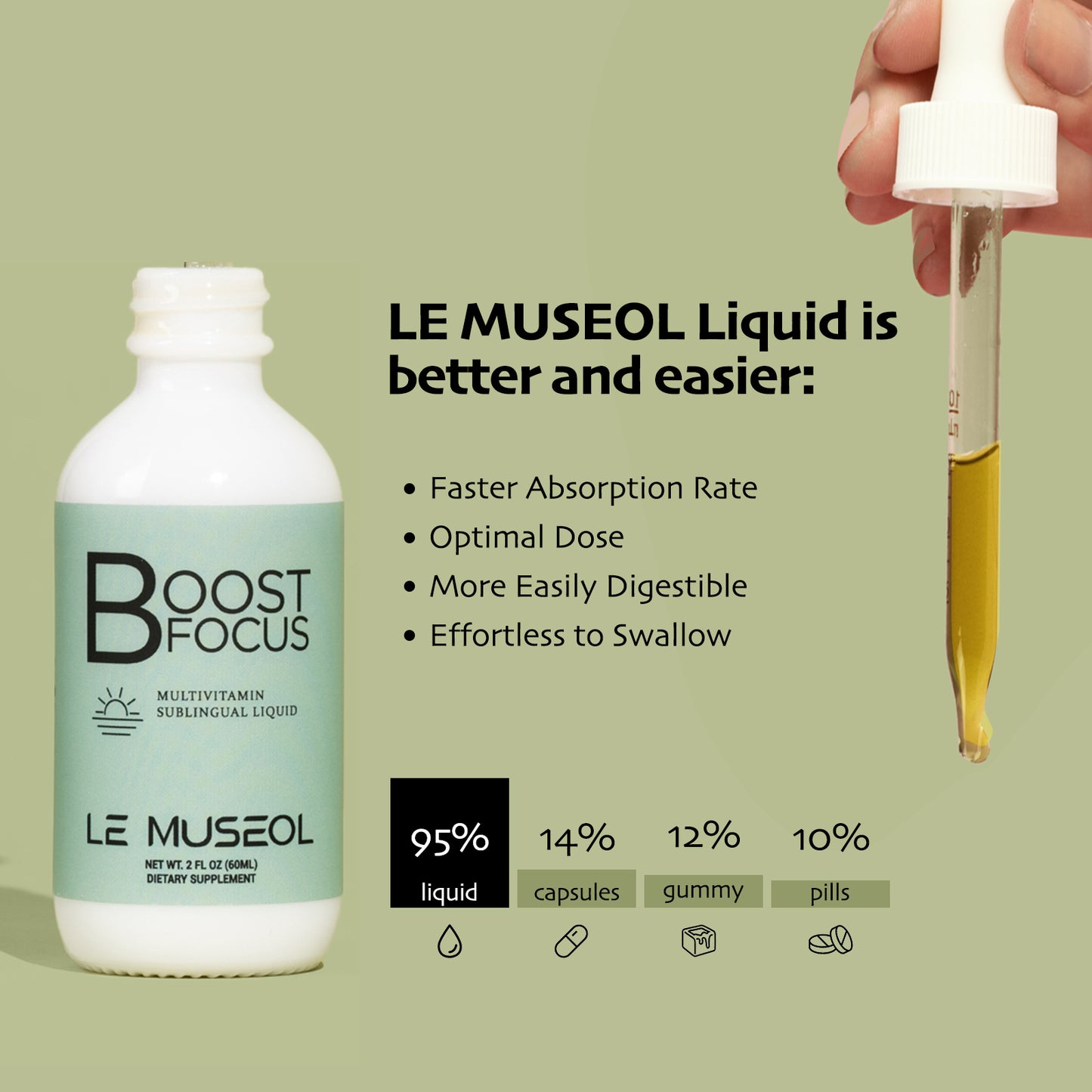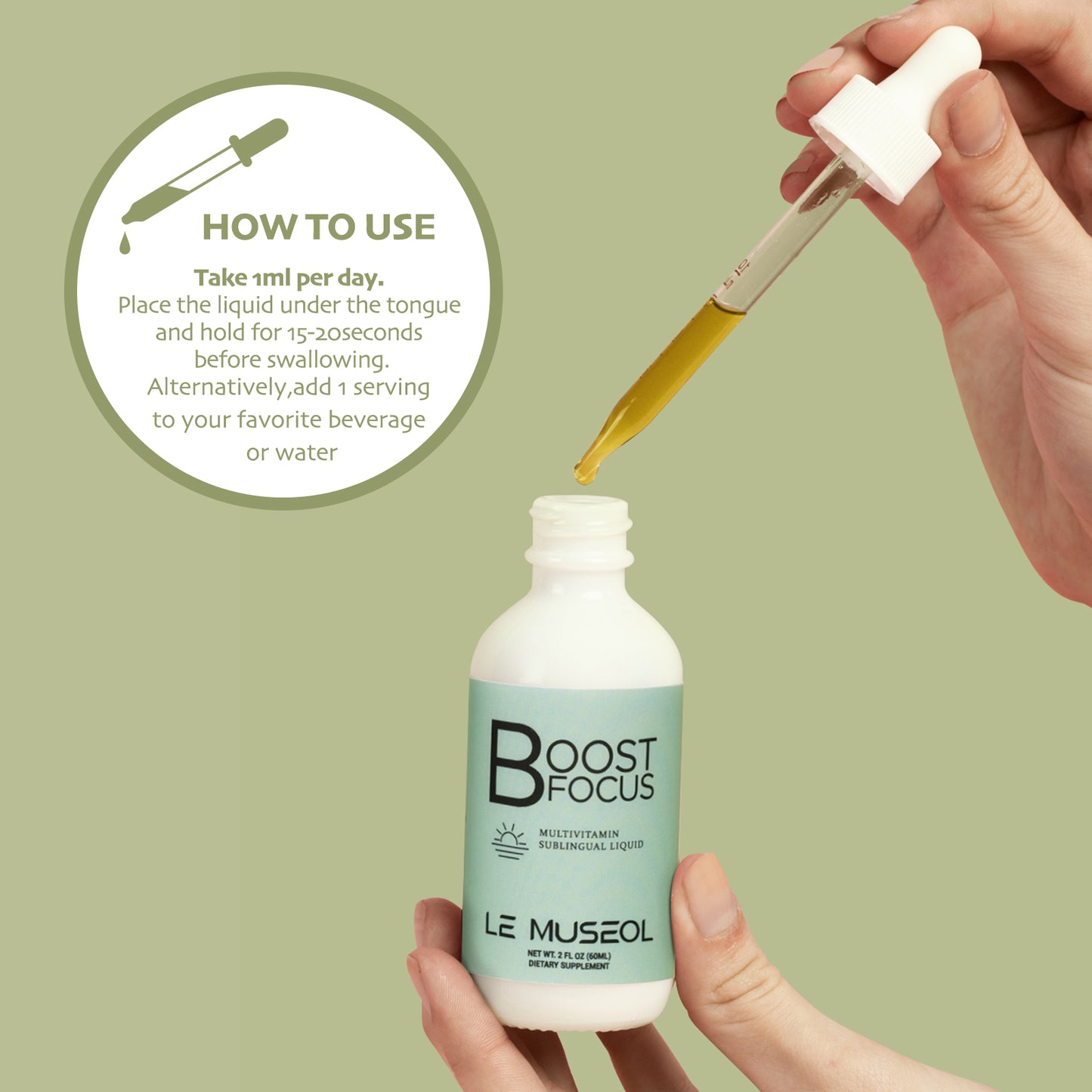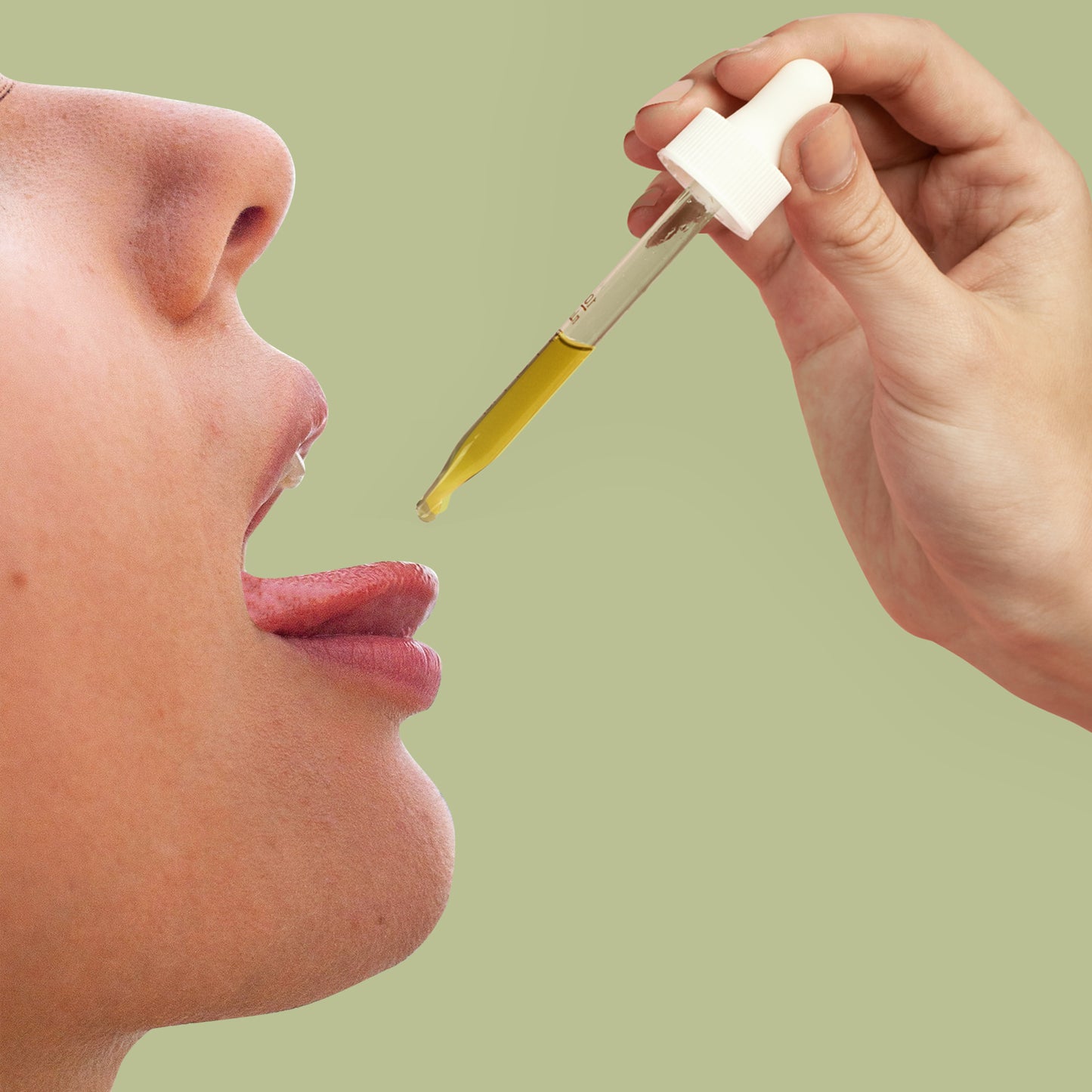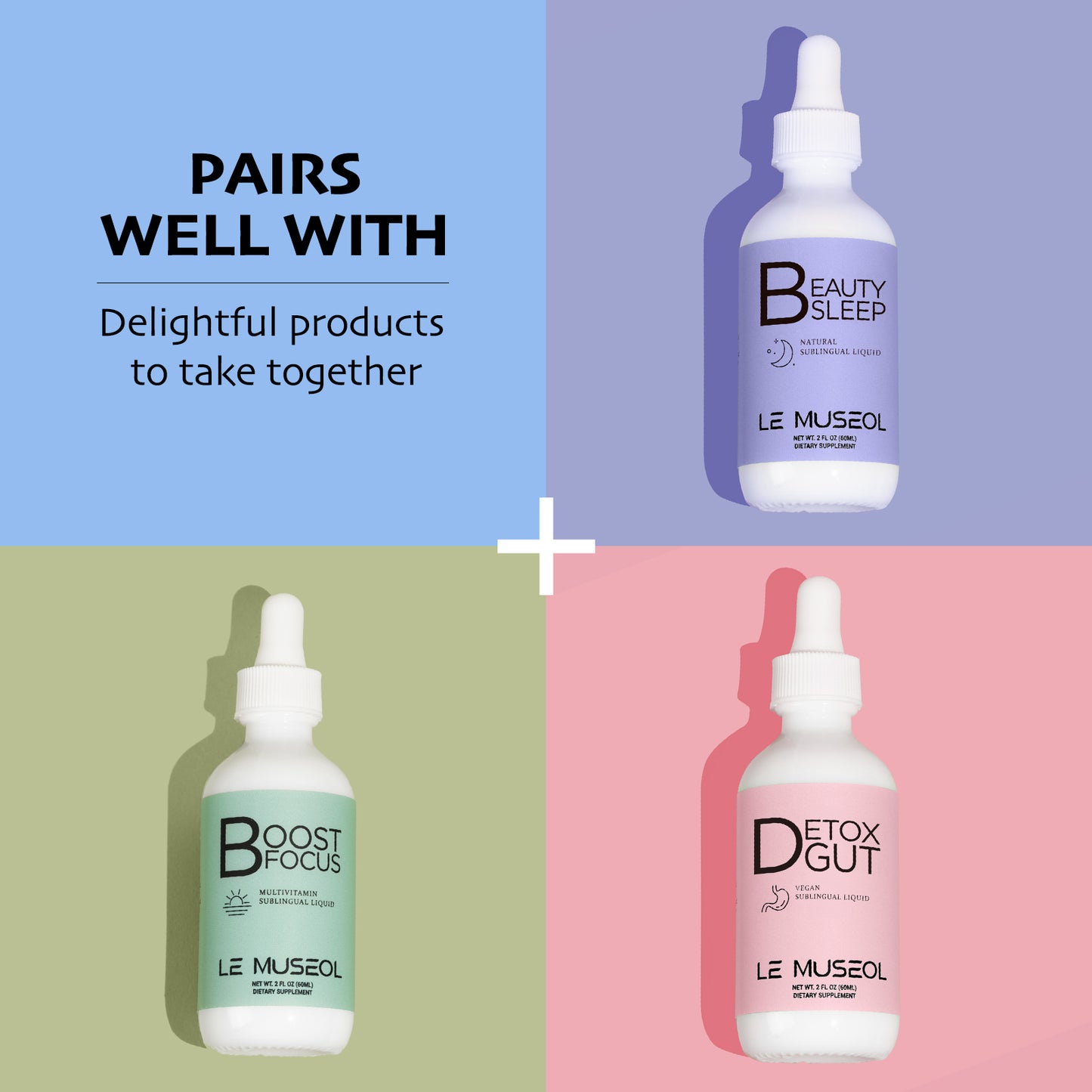 Great 👍🏽 PURCHASE.
It worked very well for me, I was extremely more focused on the right things:) great 👍🏽 PURCHASE.
Works Faster
Noticed a big change in behavior within in a week
I Use This EVERYDAY
When I take it I am able to process one thought at a time, I can remember what I'm doing as I'm doing it, I feel calm and confident and I can focus on a task to completion.
Seems to help me to focus
Taste ok does seem to help with focus.
Actually works
The taste is pleasant and it really works!! And gives you a run of energy without a jittery feeling. Also has a sort of calming effect.
DESCRIPTION

WHAT IT IS: Le Museol BOOST FOCUS is an alternative to energy drinks, sugary beverage. With 0 gram of added sugar, it's a guilt-free energy boost. It is also a boost of mental alertness to hang-over. With a unique caffeine blend along with a full blend of B vitamins to energize, it will give you instant and sustained energy and increased focus throughout your busy day. Plus 100% Vegan!

DESIGNED FOR:

- Who needs to take a night of drinking

- Who feel fatigue often

- Who feel nervours before presentation

- Who wants more fat burn

KEY BENEFITS:

- Increase energy and focus*

- Overcome fatigue and improve attention span*

- Relieve stress*

- Promote positive vibe*

KEY INGREDIENTS:

- Lion's Mane Mushroom to rejuvenate your brain, promote higher energy for positive mood and improved cognitive function.

- Caffeine gives you energy and focus while fat burning power*

- B Vitamin Blend (Vitamin B12 & Vitamin B3) to support metabolic function* and boosts mood*

- Vitamin C acts as a powerful antioxidant, supporting immune function and overall health. And it supports collagen production.

- L-Theanine helps relieve anxiety and stress.

- CoQ10 promotes your natural energy production with a beneficial effect on aging.

- Vitamin B3 (Niacin) accelerates your conversion of food into fuel to improve energy metabolism. It supports brain and cardiovascular health.

WHAT ELSE YOU NEED TO KNOW:

The natural sweetness of the taste comes from vegetable glycerin in the formula. Vegan, Non-GMO, Gluten-free, no added sugar, no artificial colors and flavors.

*These statements have not been evaluated by the Food an Drug Administration. This product is not intended to diagnose, treat, cure or prevent any disease. 

INGREDIENTS

Lion's Mane, Vitamin C, Caffeine,L-Theanine,Co Q-10,Vitamin B (Niacin),Vitamin B12.

*The vegetable glycerin we use is derived from non-gmo palms and has a naturally sweet taste.

HOW TO USE

Shake well. Take 1ml per day. Place the liquid under the tongue and hold for 15-30 seconds before swallowing.

If plan to have a night of drinking, please take 1ml before your first drink with one cup of water, or take 1ml in the second morning with one cup of water.

*Take only as directed. If you experience any adverse symptoms after use, please discontinue use and consult your doctor. This product is not intended for pregnant or lactating mothers.